Welcome to Satisfaction ON TOUR 2015
Voor de derde keer op een rij 'On Tour' bij Sociaal Cultureelcentrum d'n As in Empel. Dát getuigt volop dat Satisfaction het daar goed naar z'n zin heeft in. De inwoners wederom van een gezellige avond bieden, was het doel van 'On Tour'. En dat slaagde van de eerste tot laatste minuut.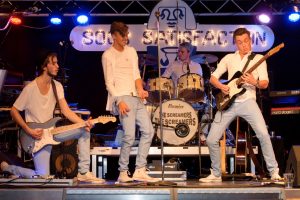 De drie bands met een diversiteit aan repertoire brachten een avond vol variatie. Zowel Dafunq, The Screamers als Baby Blue hadden elk hun eigen aanhang meegebracht. Zonder de twee andere bands tekort te doen, zette Baby Blue de zaal helemaal op z'n kop. Baby Blue maakte veel los bij de Empelse gemeenschap. Menig bezoeker gaf aan dat de band Empel nog maar vaak daar moest komen optreden. Daarnaast keken velen al uit naar Welcome to Satisfaction 2016, want ook daar maakte Baby Blue deel uit van het programma.